Discover what's next on-line
The mesh team gathers together leading thinkers and talented innovators who have earned their stripes doing great digital work. Through various events, including the mesh and meshmarketing conferences, we create a platform  to connect with others who are interested in what's next, as well as share ideas and be inspired.
The team at Inside PR helped us explain what this mesh thing is and why we care to mesh. Learn more about our story…
What's on tap for mesh13?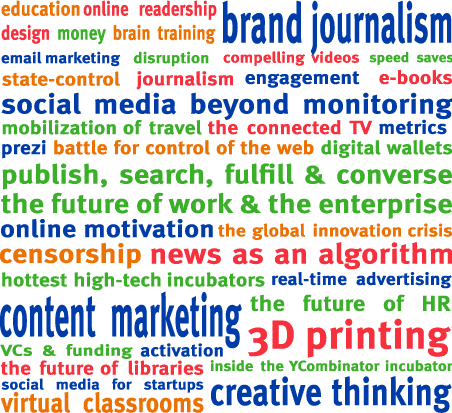 To learn more about what you'll be talking about at mesh13, please check out the schedule.
Why mesh?
mesh conference is a two-day event that explores how the web is evolving, the emergence of new and emerging trends, and what's over the digital horizon. It's a thinking person's conference that features challenging, insightful, engaging and provocative speakers and content. You will come away from mesh with new ideas, inspiration and tons of food for thought on how you personally and professionally use the Web.
Canada's premier digital conference is a chance to connect with people who are as excited about the potential of digital as you are — people who want to know more about how it is changing the way we live, work and interact with the world. And you won't just connect with them in the hallways — at mesh, every session is interactive.
What does this mean for you?
You are encouraged to ask questions and provide your insight to complement the expertise of the people on stage. Instead of being talked at, we believe that we all need to talk. That's why we bring together folks together from all pockets to talk about the future of media, society, marketing and business.
The cross-pollination of ideas make the mesh magic. Startups with communicators…policy makers with storytellers…that's mesh. When people from different walks in life and work connect and share, it inspires.
Another important element of mesh is the networking as we believe the conversations between sessions are as important as the sessions themselves. As a result, we've structured mesh with healthy breaks to provide you with the opportunity to catch up with friends, meet new people and discuss what you've heard and learned.
If you're passionate about the web and the digital landscape, mesh is a great place to immerse yourself in two days of great content, conversations and ideas.
Who should attend mesh13?

Marketers. Successful marketers know word-of-mouth is one of the most powerful tools to spread news about a product or service. The Web is word-of-mouth on steroids. Within minutes, fans can quickly spread a new service or feature across thousands of blogs, Facebook Pages, Twitter users and forums. And bad news can spread just as quickly. Come to mesh to learn how you can benefit from the former and manage the latter.

Media. Not long ago, the media was a predictable beast that consisted of newspapers, magazines, radio stations and a handful of TV networks. Now, millions of people on Facebook and Twitter can fill the same role as mainstream journalists, not to mention dozens of blog networks, video podcasters and other "citi- zen journalists" who are changing the way we think about and consume media.

Entrepreneurs. Starting a business is challenge. But online tools can make it easier than ever, letting startups take advantage of everything from "cloud com- puting" and online storage to Web-based services that can give small companies an edge over larger competitors. Come to mesh to learn about these tools and hear from those successfully using them.

Citizens. Just as the Web has empowered consumers by making it easier to talk about products and services, it has opened the doors to the political pro- cess, giving ordinary citizens ways to express how they feel about laws and leaders. It has also provided interest groups and charitable organizations with the tools they need to reach out and create change. Come to mesh and talk about what that means for us as a society.
mesh13 Partners
Sustaining Sponsors
Presenting Sponsors
Supporting
Associate Sponsors
In Kind
Media Partners
Friends of mesh
Community Partners