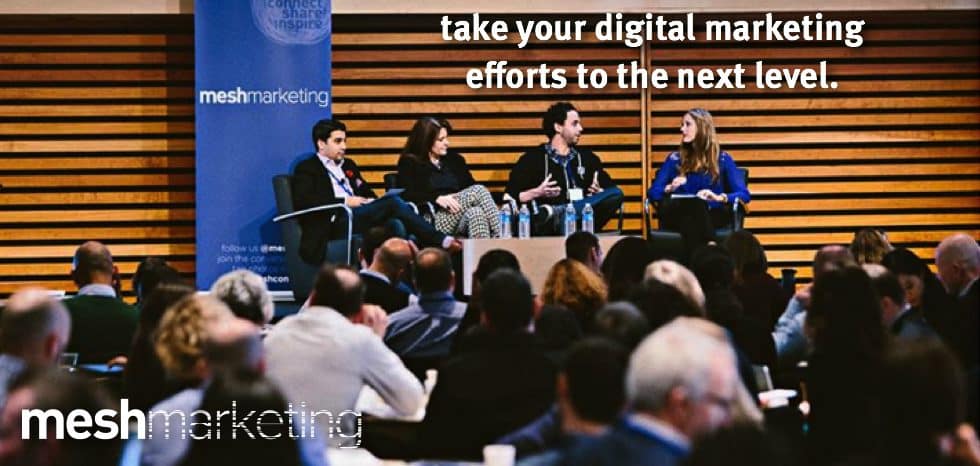 meshmarketing 2013 was on November 7. The day was a great success because of all of the incredible folks who shared their insights in presentations, offered their support as sponsors and gave us their attention as engaged attendees. The Toronto Reference Library buzzed all day because of all of you.
We talked about the intersection of social media and content marketing, how to convert Website visitors into sales, the growing role of "influencers", the digital tools used by marketers, and a hands-on case study inside an Oreo campaign. mmmmm, Oreos!
Who spoke at mm13?
Peep Laja (ConversionXL)
Peep Laja is an entrepreneur and conversion optimization expert. He's been doing Internet marketing for more than 10 years in Europe, the Middle East, Central America and the U.S. Peep runs a digital marketing agency called Markitekt, and blogs at ConversionXL.
---
Jay Baer, Convince & Convert
Jay is a hype-free marketing strategist, speaker, and author and President of the social media and content marketing consultancy Convince & Convert. A digital marketing pioneer, Jay has consulted with more than 700 companies since 1994, including Caterpillar, Nike, Visit California, Allstate, Petco, Columbia Sportswear, and 29 of the Fortune 500.
He was named one of America's top 3 social media consultants by Fast Company magazine, and his Convince and Convert blog is ranked as the world's #1 content marketing resource. He's also co-host of the popular weekly Social Pros podcast.
He's the author of the forthcoming new book Youtility: Why Smart Marketing is About Help not Hype, which debuted at #3 on the New York Times best seller list, and was a #1 Amazon best seller. and is the co-author of The NOW Revolution a best-selling book about social media's impact on businesses of all sizes and types.
---
David Singh, Kira Talent
David loves to think about tomorrow and get things done today. At Kira, David is responsible to guide Kira's marketing and oversee its day-to-day business operations.
---
Karen Schulman Dupuis, MaRS Discovery District
Karen Schulman Dupuis is the Manager, Digital Communications at the MaRS Discovery District. She has worked with startups and entrepreneurs for 14 years in ICT, and brings years of practical experience in the fields of Sales, Education, Business Analysis, Project Management and Marketing Communications together to tell compelling stories and generate results.
In her work, both professionally and in her community, Karen is considered a cultivator of relationships, a community engager & builder, a professional elephant hunter, an intrapreneur and a shift disturber. She is passionate about technology, learning and having an impact.
---
Danny Brown, ARCompany
Danny Brown is a multiple award-winning marketer and blogger – his blog is recognized as one of the leading marketing blogs in the world and #1 on HubSpot's Hot 100 Marketing blogs. He's a 20-year veteran of marketing strategies and campaign developments.
He's worked with some of the biggest companies in technology, digital and consumer, including RIM, British Telecom, Orange, Microsoft Canada, IBM, Ford Canada, FedEX, Scotiabank, Vodafone, Dell and LG Electronics.
He's also spoken at TEDx and is regularly quoted in publications and news media, including Marketing Magazine, Canadian Marketing Association, Toronto Star, CTV News, Fast Company and City News Toronto.
---
Randy Frisch, Uberflip
As COO, Randy runs around daily between strategy, operations, sales and execution of Uberflip's awesomeness.
Randy brings an entrepreneurial and customer-focused background to Uberflip with leadership experience in both B2B & B2C operations. Randy holds an MBA from the Schulich School of Business and a Bachelor of Commerce from McGill University.
---
Sam Fiorella, Sensei Marketing
Sam is a Partner at Sensei Marketing, a customer experience consultancy with offices in Toronto and New York. His strategies and software development leadership have crossed all business verticals: Insurance & Financial services, Gaming, Tourism,
Sam is also the creator and moderator of the #bizforum Twitter debate, where for the past 1.5 years business professionals discuss the pros and cons of trending business-related topics each Wednesday night.
---
Pam Clarkson, OREO/Mondelez Canada
Pam Clarkson is the Core Cookies Senior Brand Manager at Mondelez Canada. Pam is responsible for the core cookie portfolio including OREO and Chips Ahoy! Pam brings over 8 years of confectionery experience working most recently in the dynamic Gum Category on the Dentyne and Stride brands.
---
Laurie Dillon-Schalk, Draftfcb
Laurie Dillon-Schalk is the Planning Director of Digital & Social Strategy at Draftfcb, Mondelez's agency of record for the OREO brand. Laurie is responsible for ensuring returns on OREO's social endeavours. She advises and collaborates with her client and her teams delivering social strategy that captures consumer interest, drives behavioural change, builds relationships and ultimately, delivers significant business results.
---
Helen Androlia, Draftfcb
Helen Androlia is a Social Media Strategist, Content Developer and Community Manager at DraftFCB, and is currently responsible for the creative, community management and social strategy for the OREO Canada's social presence. With an eclectic social media management background ranging from technology and small-and-medium-sized business, to arts and culture, Helen brings a highly creative and analytical approach to build unconventional and effective communications for brands working in the social space.
---
April Dunford, RocketWatcher
April is a marketing executive that specializes in B2B expansion stage startups. An engineer by training, she is a metrics-oriented marketer that is focused on driving profitable revenue growth. April has been a marketing executive at a number of startups including DataMirror (acquired by IBM), Janna Systems (acquired by Siebel Systems), Infobright, Sitraka (acquired by Quest software), Watcom (acquired by Sybase). She has also been a marketing executive at large companies including IBM and Siebel Systems where she's launched and grown billion dollar product lines. April is also the author of the popular startup marketing blog, RocketWatcher.
---
Nicolas Gaudreau, Yellow Pages Group
Nicolas Gaudreau is a Canadian digital media executive, entrepreneur and lecturer, known for his key role in the early development of the online media industry in Canada. With over 25 years of marketing experience, he currently serves as Chief Marketing Officer of Yellow Pages Group.
Before joining YPG, Mr. Gaudreau held executive positions within media companies such as Nurun and Bell Canada. Nicolas also helped shaped the early standards of the Canadian online media industry as president of the Quebec Interactive Advertising Bureau chapter during his tenure as Vice-President of news and entertainment portal Sympatico-Lycos. Nicolas has been a lecturer at Université de Montréal, where he shared his passion for interactive communications.
---
Renny Monaghan, Salesforce.com
Thanks to our Partners….

---
---
---
---
In-kind Supporters
---
---
Media Sponsors