SPEAKER |
Business
Jevon MacDonald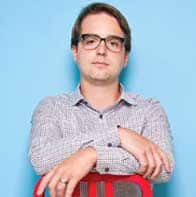 VP, Salesforce. General Manager, GoInstant at salesforce.com
---
the mesh schedule
Keynote Conversation
Date: May 28
Time: 10:10 AM – 11:00 AM
Location: 99 Sudbury | Glass Factory, mesh Main Stage
---
Jevon is a serial entrepreneur and now a VP at Salesforce.com, which he joined through the acquisition of his latest company GoInstant.com. Jevon is a co-founder of Startupnorth.ca and an instigator behind Volta in Halifax, NS.
Jevon has spent the last decade building high technology businesses. Most recently, he was senior partner at Dachis Group, an Austin, Texas-based start-up providing Social Business Design services and technology. He developed strategic alliances with companies such as IBM and Jive Software and helped the company grow from four employees to more than 100. Mr. MacDonald joined the Dachis Group through the acquisition of his previous start-up, Firestoker.com.
Born and raised on Prince Edward Island, Jevon began his career there, co-founding Silverorange.com, a prominent web development firm. Over the years, he has been active in multiple start-ups at various stages of growth and is an active angel investor, providing capital for start-up companies.