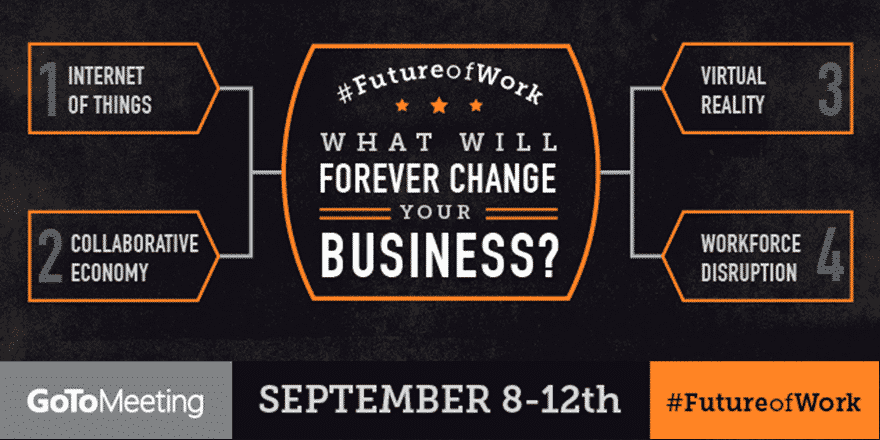 How will technology shake up the startup ecosystem? Will artificial intelligence make decisions for entrepreneurs? How will the future of work forever affect small businesses?
Next week, GoToMeeting Canada will be hosting a national Twitter debate to discuss these questions and ultimately find out which big idea will have the greatest impact on the future of work!
From September 8-12, four big trends will be pitted against each other in a series of Twitter chats throughout the week: the Internet of Things, the Collaborative Economy, Virtual Reality and Workforce Disruption (or Technological Unemployment).
Small businesses, tech startups, entrepreneurs and organizations across the country will gather for this digital event, including futurists Sanjay Khanna of Massey College and Citrix's Guy Bieber. David Rose of MIT Media Labs, Sean Stanleigh of Report on Small Business at The Globe and Mail and more will also be weighing in on the conversation.
So how will the #FutureofWork discussion work? Think March Madness.
On Monday, September 8 at 12 pm Eastern / 9 am Pacific @GoToMeetingCA will kick off the first hour-long round over Twitter: the Internet of Things vs. the Collaborative Economy.
They will ask a series of questions and you can jump in with your answers, opinions and ideas using the hashtag #FutureofWork or by tweeting to @GoToMeetingCA.
At the end of the hour, you'll get to vote for which of the two ideas you think will change the future of business in Canada. The Round 1 winner will be announced on Tuesday.
Then on Wednesday, September 10 at 12 pm Eastern / 9 am Pacific it starts all over again with Round 2, this time putting Virtual Reality vs. Workforce Disruption head-to-head. After the votes are in, the Round 2 winner will be announced on Thursday morning.
Finally, on Friday, September 12 at 12 pm Eastern / 9 am Pacific the winners of both rounds will face off in a final discussion. Later that afternoon, GoToMeeting Canada will announce which idea you decided will change the #FutureofWork forever.
We're excited for this opportunity to engage with leading thinkers and businesses across the country. Join in this relevant discussion about the future of work. We hope to see you in the Twitterverse!
For more info and updates, click here.