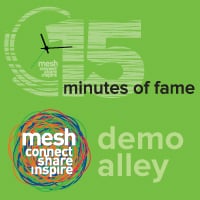 With just under two weeks until the ninth mesh conference, we're pleased to welcome our featured startups taking part in this year's event.
This group of innovative leaders will be showcased in the mesh "demo alley" where attendees will have the opportunity to meet with the entrepreneurs and vote for their favorite startup.  The top startup will then be featured on our main stage during the mesh "15 Minutes of Fame" sponsored by glacéau vitaminwater.
"It has been amazing to see how the startup community has grown over the past few years. This is the third year that mesh has put startups in the spotlight. It's exciting and important to support the startup ecosystem." Mark Evans mesh co-founder
Thanks to our mesh sponsors Ernst & Young, City of Toronto and Yellow Pages Group
A user friendly content marketing tracking tool that allows companies to spend less time running reports and more time creating engaging content for their audience.
Innohub's flagship product Uplette delivers personalized, context-aware and dynamic mobile landing pages directly to any mobile device, helping clients satisfy the needs of their consumers.
A leader in mobile-based store-card and payment solutions.  Virtual Next is the world's first company to enable fast food chains to offer a branded mobile based digital card that ties payment into loyalty without the use of additional smartphone apps.
A biomedical engineering and micro-fabrication research and engineering lab at the University of Waterloo that creates advanced electrodes capable of providing enhanced functionality and biocompatibility, for use in the development of reliable and efficient therapies for nervous system disorders.
An efficient and convenient online home maintenance service that allows customers to book professional handyman and house cleaning services.
North America's first crowdfunding platform for charities and corporations.
Uses an advanced technology platform to help editorial teams show the most relevant and compelling content to their audiences with the goal of improving core metrics.
A quarterly subscription service with a focus on emerging artists and designers.  Delivering thoughtfully curated products from around the world to consumers delight.
Share More. Get More.  Shario is a mobile app that rewards consumers with discounts in return for sharing their favourite shops. Merchants are then able to track consumer buying patterns and benefit from customer referrals.
Kastio @KastioApp
Kastio is a live webcast platform for marketing teams to create compelling content throughout their funnel, and engage users with detailed customer data in order to drive conversions and increase sales.
A physician led technology company creating software solutions to help healthcare providers deliver the best possible care to their patients.
A cloud-based SaaS to help content producers measure engagement and efficiently share their product within an access controlled environment.
Uses big data analytics to help organizations improve their performance by helping them to understand the collaborative balance of people, processes and tools.
Hurrier @usehurrier
An on-demand delivery service within downtown Toronto. Use them to have your food, gifts, packages or anything else delivered promptly.