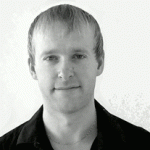 In putting together this year's speaker lineup for meshmarketing, we wanted to focus on people who help brands do better at digital marketing to drive their businesses forward.
A critical part of the digital marketing mix is conversion optimization, which is all about having a Website that turns visitors in customers.
The reality is while social media and content marketing are great ways to attract the attention of existing and potential customers, it doesn't matter if these people don't do something (e.g. make a purchase, read a white paper, attend a conference) after they arrive at a Website.
This is why we're excited about having Peep Laja as one of our keynote speakers. A conversion optimization expert, Peep heads up Austin-based Conversion XL, which uses a straightforward tagline: "We make Websites sell".
For any business looking to drive digital marketing ROI, conversion optimization should be a huge focus. On Conversion XL's Website, the math behind better conversion optimization is simple: improve your results just 1% a day, and you've doubled it in three months
In many ways, conversion optimization is not sexy and it involves a lot of grunt work, tweaking and testing. At the same time, it has to be an important pillar of a brand's digital marketing activities. If your Website doesn't deliver measurable results, your business is in trouble.
To get a taste of what Peep will be talking about during his keynote, here are some of his recent blog posts:
1. How to know if your copy is any good?
2. How to do conversion with very little traffic
3. It's not a conversion problem, it's a customer development problem
4. Stop copying your competitors, they don't know what they're doing either
Tickets for meshmarketing are $199 until Oct. 30 ($299 afterward), while there a handful of tickets for full-time students for $49.