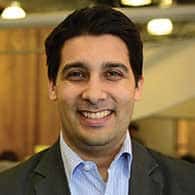 The idea for a digital toolbox panel at meshmarketing came from David Singh, VP strategy and operations with Kira Talent. Over coffee, he talked about the different digital marketing tools he was using.
I did a quick Q&A with David about his thoughts about content marketing, social media and connecting with digital audiences.
What do you see as some of the more interesting trends within content marketing social media? What should brands be focused on?
I don't think it's necessarily new, but I'm always struck by content that is beautifully packaged and designed. Well thought out info-graphics are great ways to show a great story and support your visual brand. I'm also loving how companies are using short video more and more. It's easier to produce more than ever and all of our devices are ready to help is digest it voraciously.
Where do most companies fall short when it comes to social media and content marketing?
Failing to connect with / listen to their audience. If you were speaking at an event, you would quickly see that everyone has their back to you and earphones in. With digital content, it's more important than ever to build truly personal relationships online. In the early stages, this can't and doesn't really need to scale. I believe authenticity will scale far faster than volumes of content.
What do you see as the biggest marketing challenge for a startup given the limited people and resources?
Mixed messages. I think back to my day as a consultant advising senior executives. If we were lucky we had 30-minutes to pitch them weeks of analysis. We had to synthesize our message to be crystal clear and compelling. In the advisory case, we had an established relationship and dedicated time. As a start-up, you are disrupting a space so any dilution of your message will only weaken your results and waste the precious resource of your and your targets time.
Any new or favourite digital tools these days?
Mouseflow – this is a quick and cheap tool that allows you to track everyone's interaction on your site by hover time, clicks, and visitor flow. You can analyze by co-horts, batches, and specific pages. A very insightful tool if you have low volume traffic.
Woopra – this allows you to see visitor actions/behaviours over time in real-time. You can tag specific users (if you know who they are) and you can see their longitudinal relationship with your site. It's like Hubspot lite.
Yesware – a fantastic Google plugin that allows you to track open rates and send personalize mass email.
To access the Websites mentioned by David, as well as meshmarketing pages, click on the tile below. Tickets for meshmarketing are $199 until Oct. 30.