When we put together the programming for mesh, a key part of our approach is identifying up and coming trends, developments and ideas that we think deserve the spotlight.
At the same time, mesh needs to meet the specific needs of attendees so they do their jobs in a new, better or different way. With this mandate, we spend a lot of time creating panels and workshops that provide ideas, inspiration and information.
So, it was gratifying to see a new poll by eMarketer that asked digital marketers about their biggest priorities in 2013 versus 2012. The top five answers were content marketing, conversion rate optimization, social media engagement, targeting and personalization and content optimization.
These are topics that mesh will be all over with speakers such as Joe Pulizzi, who will do a workshop on content marketing, Scott Lake and Joel Yashinksy, who will talk about social media optimization and engagement, and Chris Sukorny Mladen Raickovic and Roy Pereira, who will be on a panel about ad targeting and personalization.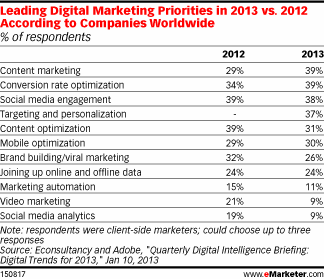 Whether you want to spend one or two days at mesh, there will be panels and workshops that will offer great insight from people in the trenches. Early-bird tickets for $499 (a $150 discount offer the regular price) are available until Feb. 15. There are also one-day tickets for $399 and student tickets for $99.